Get an instant quote for your executive taxi in Northampton and book online:
Swift Motion Executive Cars Northampton
Is your top choice for taxi services to and from Northampton. Our professionally trained and fully qualified drivers are dedicated to providing you with a secure, comfortable, and enjoyable journey. Whether you need airport transfers or executive cars in Northampton, we've got you covered.
Our taxi service in Northampton is the go-to option for individuals and businesses alike, serving the entire Northamptonshire region. We pride ourselves on offering the best taxi services to Northampton, Kettering, Market Harborough, Bedford, Daventry, and Milton Keynes. When it comes to airport transfers, we have the expertise and the fleet to get you there in style and comfort.
Swift Motion Executive Cars Northampton specializes in airport transfers to and from Northampton, ensuring that you arrive at any airport in England feeling relaxed and well-rested. We understand the importance of punctuality and reliability when it comes to getting you to your destination on time. With our airport transfer services, you'll never have to worry about missing a flight or dealing with transportation hassles again.
Our executive cars in Northampton include luxury vehicles like the BMW 5 Series and Mercedes E Class. The cars are designed to provide you with a superior travel experience. Whether you're travelling for business or pleasure, our executive cars offer the perfect combination of style, comfort, and performance. Our experienced drivers will make sure that you have a smooth and enjoyable journey every time.
Executive Taxi Northampton
As a premier provider of taxi services to and from Northampton, we are committed to meeting the unique needs of each customer. We can customize our fleet to suit your specific requirements, ensuring that you get the most out of your experience with us. Whether you need a spacious minivan for a family outing or a sleek executive car for an important business meeting, we have the perfect vehicle to match your needs.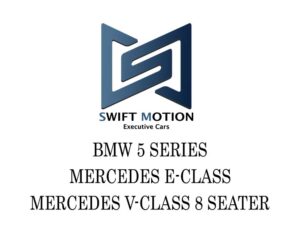 Airport transfer Northampton
If you're searching for airport transfers or executive cars in Northampton, look no further than Swift Motion Executive Cars. We are available around the clock to assist you with your transportation needs, and our friendly team is always ready to help. Don't hesitate to get in touch with us at any time. We'll be more than happy to answer any questions you may have and provide you with a tailored solution that meets your specific requirements.
In summary, Swift Motion Executive Cars Northampton is the leading provider of taxi services to and from Northampton.We offer a comprehensive range of solutions to cater to all your transportation needs. With our luxurious executive cars, reliable airport transfers, and commitment to customer satisfaction, you can rest assured that you're in good hands when you choose us for your next journey. Contact us today to experience the Swift Motion difference for yourself.